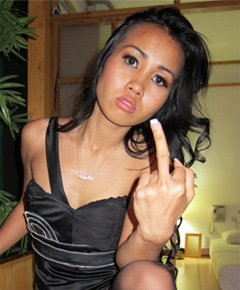 MY CELLPHONE NUMBER:
SLAVES ONLY
LIVE WEBCAM CONTACT:
SLAVES ONLY
REAL LIFE SESSIONS:
MONEY SLAVES ONLY
Eager to finally get to know me slave? You should know I'm a beautiful spoiled, naughty and sexy 21 year old Money Princess from Thailand.. In the world of BDSM and Financial Domination better known as Thai Money Princess or Thai Pricess. Behind my sweet smile hides a strict and pervert dominatrix that's after one thing only: Your money. Let me tell you right now piggy - I occasionally like to swear at you - calling you a Loser, Wanker and Ugly. How ever, I enjoy the most too humiliate my slaves personally by controlling masturbation, giving assignments and sometimes, just sometimes when the mood strikes I'll give a little back by allowing you to touch my silky brown Thai skin and massage my feet... or maybe not ;-) Unless you are broke I will control all aspects of your life by giving you assignments that will give you suffering while I stand there laughing at you..
Listen you weak soul, just because you have found my website and think I am an attractive, gorgeous and a wonderful princess doesn't mean I will allow you to be my personal slave. I'm an experienced money princess that loves eating weak guys like you alive, drain your bank account and make you beg to pay me more. I have a personal interests in each and every soul that wants to become my slave, I - Thai Money Princess have a strong suit for knowing my slaves deepest desires, fantasies and wishes and will push your boundries and use them against you. I will personally, step by step train you in becoming my money slave. Tell you exactly how to serve me, what I like and don't like, the do's and don't. I am devoted to this lifestyle, my luxury and my princess treatments, so I expect you as my slave to be devoted to your chores, tasks and most importantly me: Your Thai Princess.
What else there is to say to you slave without really knowing you. You have seen me, you know all about me. I can't really do anything before you properly introduce yourself to me, kneeling in front of me while I am treating you like a dog. That seems to be what you are searching for anyways? Read about my princess lifestyle, and see how I am spending your money shopping with my best friend Lisa, going to expensive restaurants and make you wait for me chained to my bed. I update my members area every Friday so you can enjoy my new episodes all weekend long while I am out partying and being social. Something most of my slaves could never do, smile and interact with real people - and you are probaly one of them too. Let me make you one promise: By joining my website in a mission trying to find a real Money Princess to serve I will do anything in my power to make you suffer, hurt your feelings and make you beg for attention. You will understand that your Thai Money Princess is above and beyond in your life. You shall carry me on both hands and feet while I'm spending all your money. You will become my real money slave, and I be your Thai Money Princess.